Everyone's going crazy with this new gardening trend!


These trendy vertical gardens look professionally made & impressive. But with GreenPockets - Anyone can now bring a vertical garden home!
Got little space around your home for growing plants? Ditch the traditional way with these space-saving garden wall panels
.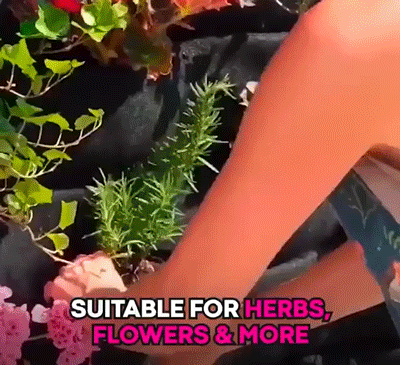 ✔️ Build your own little greenery indoors or outdoors
✔️ No fancy garden tools needed
✔️ Save tons of space!
✔️ Add life, beauty & unique touch to your home
✔️ Eco-friendly, live the green life!
✔️ Guaranteed homeowners LOVE IT!
EASY RETURNS & EXCHANGES
Make fresh greens and herbs available, all throughout the year! 

Wall-mounted Pocket Panels
This vertical hanging wall planter gives you room to grow plants in a small space, apartment, or a limited outdoor area!
Decorate Your Space
Finally! A perfect hanging planter for plants that not just turns any unused or plain area into a vibrant and lush vertical garden but also makes your space look stunning like never before!
Suitable for a variety of plants
Each planting bags have flat pockets, grow any variety of herbs, perennials, succulents, houseplants or vegetables in just a single area at home!
Premium quality reusable felt material
Water-Retaining Felt material creates perfect soil conditions, which makes it perfect for either indoor and outdoor.  Non-toxic, biodegradable, anti-corrosion, and durable to use!